As the end of the year approaches, my stack of to-be-reviewed books grows ever taller. I realized to my horror that I am rapidly approaching the point of not being able to remember what I liked or disliked about each story. So here are reviews of varying lengths for your amusement – and hopefully a few will pique your interest enough to check out the books themselves.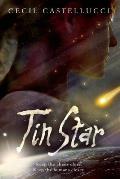 Tin Star by Cecil Castelluchi (Roaring Brook Press, 2014). First, a disclaimer. I met (and instantly adored) Cecil (a she-Cecil, not a he-Cecil, sometimes known as Miss SeaSkull) at Launch Pad Astronomy Workshop in 2011. This story, she says, was inspired by all the space science we learned together. I got to be one of her early readers, so I had seen a rough draft of this story before. But one of the cool things about the passage of time is the sense of reading the story for the first time, maybe a story a friend told you about so you have some idea what to expect, only what is there is so very much better than what you r/e/m/e/m/b/e/r/e/d expected. Tin Star delighted and absorbed me at every turn, and I honestly can't say whether any of my comments had anything to do with the marvelous finished product. As far as I'm concerned, it's all Cecil's doing! So here's the skinny: Tula Bane, a young colonist from Earth, is left for dead on a space station, home to a host of alien races. As she learns to survive without friends or resources except her own wits, she plots revenge on the colonist leader who betrayed her and blew up the ship carrying her family. With deceptive simple language, Castelluchi takes us on a journey of growing up and learning what it is to be human. Highly recommended for adults as well as teens.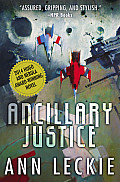 Ancillary Justice
, by Ann Leckie (Orbit, 2013). I was a little behind the curve in checking out the
Collaborators
, as Deborah Wheeler, in which humans make contact with a gender-fluid alien race), I was particularly curious about how Leckie handled the topic. Her alien race is binary gendered, but gender is not important or even a thing to be noticed; hence, the universal use of the feminine pronoun, leaving it to the reader or members of other races to guess who is which. I can see why readers got excited about this novel; it's a very, very competent debut novel. It certainly grabbed and held my attention. The one thing I felt uneasy about was that the sense of a moral center was very slow in development, and on the way, there were too many times when I just couldn't connect with any of the characters. Leckie pulled it together at the end and it might not bother other readers, so this is a highly personal quibble. I will look for her future work, but probably not set in this world. Well worth checking out, especially if you like military science fiction.